Site 57 Safari
Site 57 Safari - MICHIGAN'S ONLY DRIVE THRU SAFARI!
(NO PETS ALLOWED)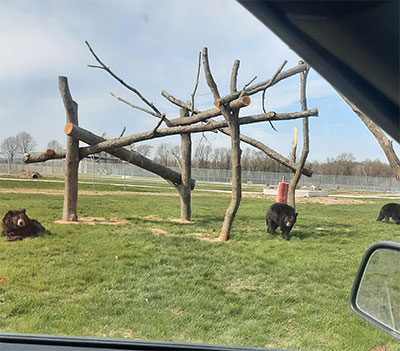 EXPERIENCE THE WILD – Up close and personal!



Drive through Site 57 Safari from the comfort of your own vehicle while you interact with and feed tons of animals, up close! Have you ever fed a snack to a yak? How about gotten sloppy Bison kisses? Up for some exciting surprises? Well, get ready for some crazy fun! Come on down, grab some animal food to feed, and take to the trail! Just check out our hours of operation, and be sure to read all the RULES OF THE ROAD. And remember, things have gotten wild out there so keep your eyes peeled and drive safe 🙂


Need to stretch your legs at the end of the trail? For even more fun, check out our walk thru Deer Tracks Junction Adventure Park.


RULES OF THE ROAD
WARNING: YOU ARE ENTERING WILD ANIMAL ENCLOSURES. ENTER AND FEED AT YOUR OWN RISK. Site 57 Safari and Deer Tracks Junction, LLC are not responsible for any injuries or damage to your vehicle.
NO BUSES ALLOWED
Maximum Height Clearance is 9 feet.
Purchase tickets right at the booth under Entrance Arch. No need to leave your vehicle.
NO PETS allowed in vehicles or on-premises.
NO SERVICE ANIMALS ALLOWED IN SAFARI ~ Due to the up-close and interactive nature of our facility, and for the safety of our resident animals AND your service animal, Service Animals are not allowed in the DRIVE-THRU SAFARI.
ALL SALES ARE FINAL. No refunds or exchanges.
No smoking.
No alcohol or firearms.
No Trailers.
Stay in your vehicle at all times. Do not hang out your window or open your doors.
FEED only the food purchased here. Changing the animals' diet can make them sick or they could die, and we could lose our USDA license.
Hold feed buckets outside of the vehicle to feed. DO NOT feed animals from your hand. ANIMALS WILL BITE.
Stay on the safari road
Minivan Sliding Doors MUST Remain Closed.
Windows should be rolled all the way up or all the way down. If windows are only partially open, animals can get their head stuck and they can break your glass.
No motorcycles, no jeeps without doors or tops, no convertibles with tops down.
Bed of Pickup trucks MUST BE EMPTY. No riding in the bed of the truck.
Remove all flags, balls, or other objects from the outside of the vehicle prior to entry.
THERE IS NO FEEDING IN THE BEAR ENCLOSURE. ALL DOORS LOCKED AND WINDOWS COMPLETELY UP IN THE BEAR AREA - NO EXCEPTIONS.
Do not harass or harm the animals. Do not honk your horn (this will spook and scare the animals)
Speed limit is 5 miles per hour. Keep 1 car length between vehicles.
Do not throw trash in the park. There are trash receptacles available.
Please return the feed buckets at the end of your visit.
Obey ALL rules at all times.
ANYONE NOT OBEYING THE RULES WILL BE ESCORTED OUT IMMEDIATELY. NO REFUNDS.
Closed For the Season